So this is a break in the norm for me. I'm not really doing any review. I'm actually just going over the cataclysmic, world changing events of last night's Academy Awards. So.... yeah I don't really have much to say. I guess I can start off that more often than last year, I was almost in complete agreement for most of the awards last night. Last year I was very split with how
Life of Pi
won a ton of awards,
Django Unchained
should have won more awards than it did, and
Argo
pulled a Best Picture win out of its ass. This year was a lot more fair and had the most deserving movie win. So here are the most memorable things to talk about for last night, for better or worse.
Ellen does a damned good job
I'm not a huge Ellen Degeneres fan, but my oh my she did a good job last night. As an experience, I enjoyed her hosting it a lot more than Seth MacFarlane, but Seth had much more snappy jokes and delivery than Ellen did. I don't know exactly who was a better host, but let's put it this way. Seth MacFarlane went into several musical numbers last year that were funny and pretty good on the whole, while Ellen broke twitter and ordered some pizza for the Oscars. Both were good, but for different reasons. Kudos to her.
Gravity obliterates the Oscars
Best Picture. Best Sound Editing. Best Sound Mixing. Best Original Score. Best Film Editing. Best Visual Effects. Best Cinematography. All of these awards were given to
Gravity
in the case of the most unsurprisingly landslide in Oscar history (well except for maybe
Return of the King
).
Gravity
righteously won several major awards, all for technical achievement, and cemented itself as being one of the best movies of last year, and maybe even a bit better than the actual Best Picture. In my original review I gave
Gravity
a 5 out of 5, and while it was in my earlier days where I gave those outs fairly easily, I think I gave like three out in three months, it deserves all the praise it got. Hell, I even gave it my 5th best film of 2013, so it has to be good. It just came out on DVD, so now you have no excuse to not see one of the best movies in the past decade.
Frozen won best song, world sang out
So... "Let It Go" from
Frozen
won Best Original Song. I've been meaning to talk about this for a bit, but while I do like
Frozen
quite a lot, I am getting a bit of drawback because of how every last part of the movie is being drilled into the ground. Where I live, I've had blizzards essentially every week, so every day I had to hear about
Frozen
and I was asked if I wanted to build a snowman. It was cute the first few weeks after it came out, but now I'm just getting sick of how much
Frozen
is being drilled into the ground. It's actually kind of sad, since I loved the movie, but I'm now really hesitant to actually watch it again, because I'm most likely going to see it with people who are obsessed to the point where they'll say "
Frozen
is perfect and there's nothing wrong with it." But yes,
Frozen
has problems. Please, give it a few months and once summer comes around, I'll warm up to
Frozen
again, but seriously, no more
Frozen
shit. And now I have to deal with Adele Dazeem for a few more weeks, so yay to me and making sure that the internet doesn't let
Frozen
fade from popular consciousness.
Leo and Wolf loses, Gatsby wins
HOW DID
GREAT GATSBY
WIN TWO OSCARS???????????????????
No seriously, I hated that movie with a burning passion! It was the worst movie of last year, and now it won not one, but two Oscars?!?
Gatsby
won Best Production Design, which I will concede was a good call even though there were better movies in the category, but how in the flying hell did it win Best Costume Design? That was the one award that actually made me think
American Hustle
would win. But nooooooooo, we get
Gatsby
winning two Oscars, and
The Wolf of Wall Street,
a FAR better movie, winning nothing. Nada. Leonardo DiCaprio didn't win Best Actor yet again. Sometimes this world is a harsh mistress....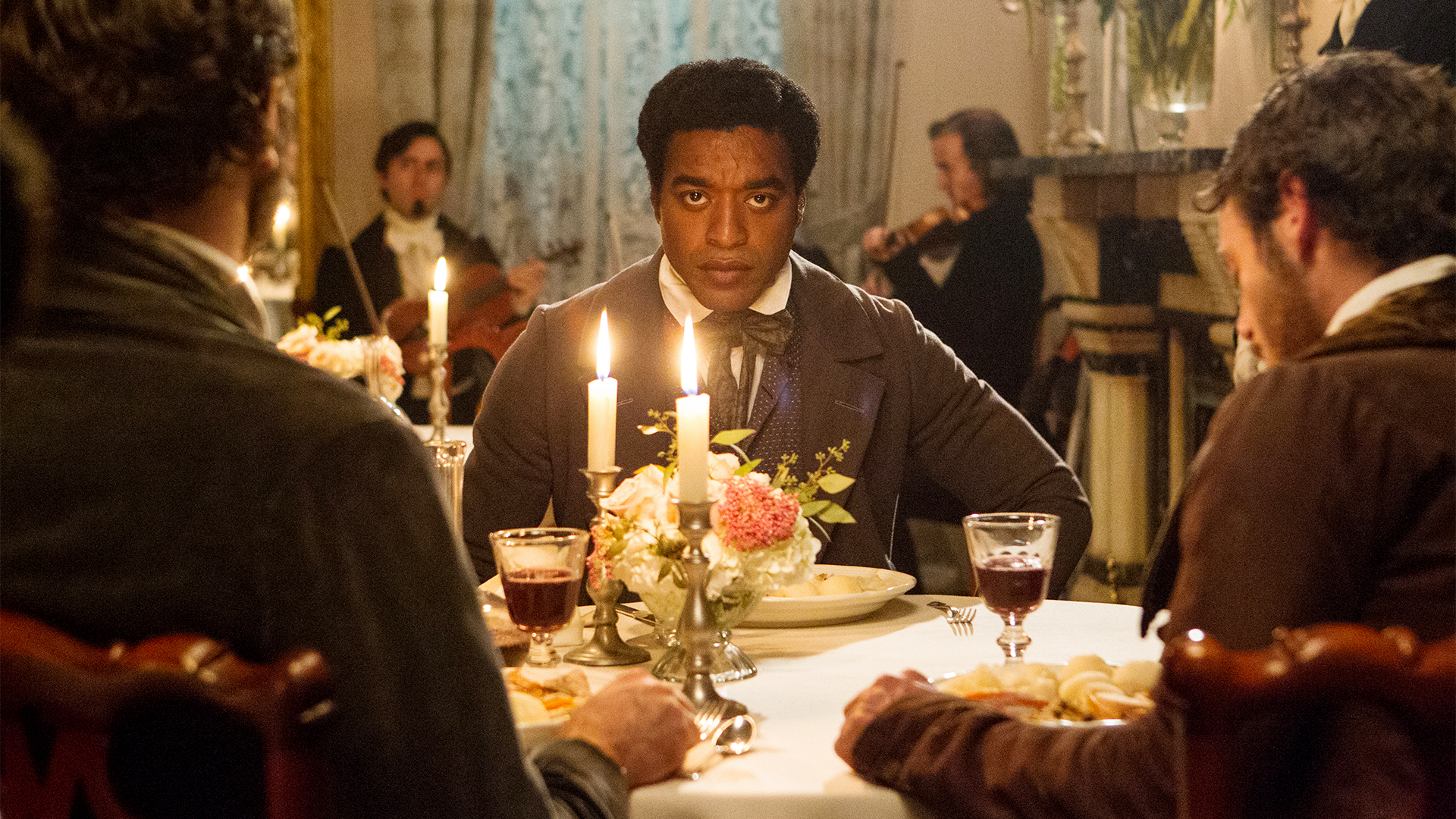 12 Years wins Best Picture
I'm actually fairly alright with this. Yes I was hoping that either
Gravity
or
Wolf
would take it home, and
Gravity
did look like it might just take home Best Picture, but I'm actually alright with
12 Years A Slave
winning best picture. Not only was it just flat out the best story and the most likely candidate to actually win, but it was just a good movie too. I didn't see it in 2013, and by the time I did I already posted my Top 10 Best Films of 2013 list, so I saw no point in doing a review on it. All I can say is that yes, this movie deserved to win, though my heart still goes out to
Gravity
and
Wolf
. And it was a sheer outrage that
Spring Breakers
wasn't nominated for Best Picture, and I do mean that ironically and maybe literally. At least give it something!